(520) 833-8973

(520) 833-8973
MISSION STATEMENT
MISSION STATEMENT
It is our Mission to utilize our team and core values of Quality, Unity and Integrity to build a sustainable stucco product in such a way that inspires the construction community around us.
We place a high value on Quality and feel it is very important to the work we do. We don't cut corners. We do our job to the best of our ability the first time.
We value Unity because we work together. We are teammates and team players with each other and our clients.
Integrity is one of our core values because we commit to do the right thing when no one is looking and hold each other accountable to be both honest and ethical in all our business practices.
Javier & Anna Contreras Founding Owners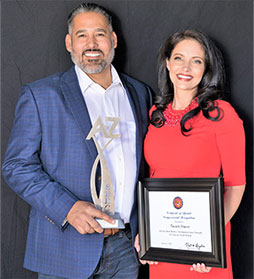 (520) 833-8973
We will soon leave an Amazing Year 2018 that abounded with growth and expansion. It was an honor to be a part of some exciting projects such as this beautiful apartment complex nestled in northwest Tucson ▬ Pima Canyon Luxury Rentals.
As we prepare Tucson Stucco to enter a new year with continued growth, we remain committed to the Principles of our Mission Statement. We would like to thank our Staff, Clients and Suppliers from the bottom of our hearts for their contributions and support.